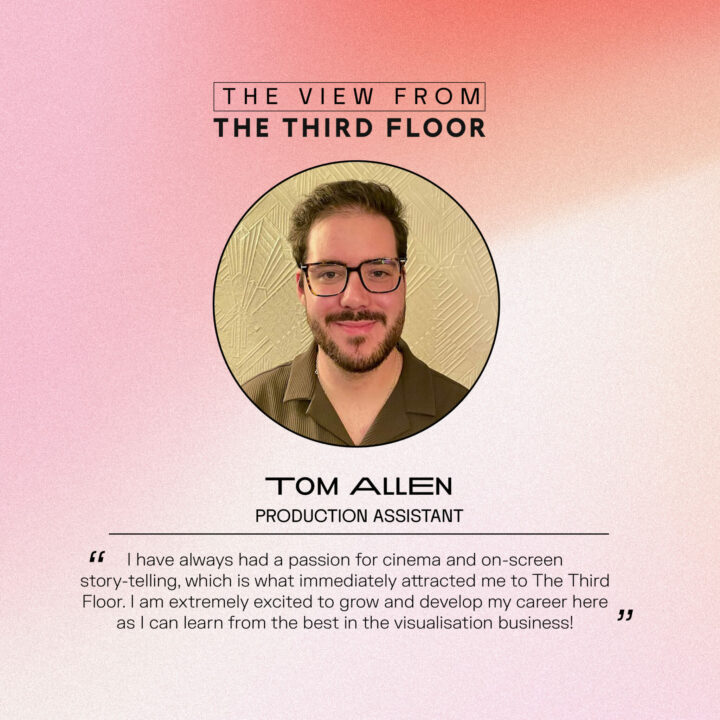 What is your name and what is your position at TTF?
Tom Allen – Production Assistant
How long have you been with TTF?
4 months
What does your role look like day to day?
Day to day my role as Production Assistant for The Third Floor London Studio looks very different! Even though no day is the same you can usually find me assisting the production team, facilities and HR with various tasks, and ensuring the smooth running of the office.
What led you to work in the visualization and entertainment industry?
I have always had a passion for cinema and on-screen story-telling, which is what immediately attracted me to The Third Floor. I am extremely excited to grow and develop my career here as I can learn from the best in the visualisation business!
What is your favourite part about working for TTF?
I really enjoy being able to observe the company's workflow on a multitude of different exciting projects. As the Production Assistant I have the opportunity to give a helping hand to all departments, which has grown my understanding and knowledge of the industry exponentially.
What advice would you give someone looking to get into this industry?
It's always worth it! Take any opportunity that comes your way and put 110% effort into everything so you can gain a multitude of skills and knowledge. 
Biggest milestone at TTF / How have you grown here?
Having joined TTF towards the end of 2022 my first big project was the organisation of the annual Holiday Party. This involved many moving parts, but I was proud of the team for pulling off a great night! It was important that the event was successful, due to all of the hard work the TTF staff put in, and thought they deserved to let their hair down and dance the night away! 
What's your favourite creative outlet?
One of my favorite creative outlets is analog photography on my point and shoot Olympus 35mm, ideally on Ilford HP5 if given the option.
Where do you draw your inspiration from?
The artistic world
What was your biggest influence as a kid? 
Tobey Maguire as Spiderman 
Are you doing anything at the moment to grow and develop your skills? 
I take every opportunity to learn from my colleagues, by shadowing different departments and absorbing any advice given to me. I have also been watching a lot of films, both new and old, to study story-telling in its many forms.
You're on the run from a hoard of zombies, what do you do?
Follow Columbus' rules
If not London, where?
Barbados
Fictional character you'd share a pint with?
Gandalf
Describe what you were like as a 10 year old?
Shy, and really into football!
If Hollywood made a movie about your life, who would you like to see cast as you?
Ethan Hawke 
People would be surprised if they knew…
I have broken 4 bones, including my nose!
TV Show/Film you're ashamed to admit you love!
The Bold Type
Go-to karaoke song?
 "Tequila" by The Champs