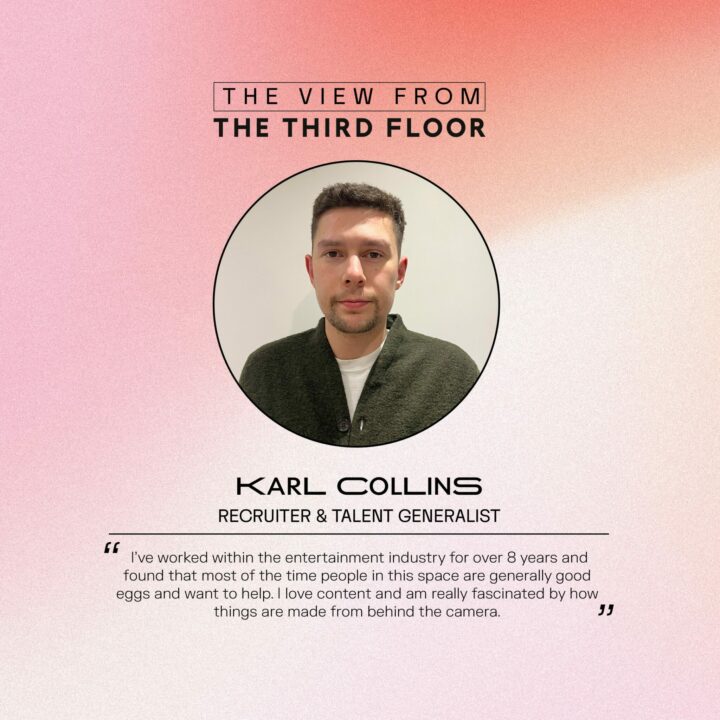 What is your name and what is your position at TTF?
 My name is Karl Collins and I am the Recruiter and Talent Generalist at The Third Floor London.
How long have you been with TTF?
Only  2 weeks! 
What does your role look like day to day? 
My role is super varied and no day is the same! I've only been with the company for two weeks, so at the moment I'm building out diverse talent pools for production, virtual production and artist. This means I'm speaking with supervisors, casting and production crew to discuss project details and then speaking with applicants to see if they're available. So in layman's terms, I'm building a lot of relationships! 
What led you to work in the visualization and entertainment industry?
 I've worked within the entertainment industry for over 8 years and found that most of the time people in this space are generally good eggs and want to help. I love content and am really fascinated by how things are made from behind the camera. 
What is your favourite part about working for TTF?
On Wednesdays, we encourage all staff to pack up at 3 pm and head to a local preferably independent coffee shop for a short break. For those of us in the office, we head down together and it is a great time to catch up and switch off. 
What advice would you give someone looking to get into this industry? 
Diversify, Diversify, Diversify – be as flexible as possible, so whether that be fetching teas or coffees or running messages do it with a smile on your face and be willing to learn.
How do I apply for a role at TTF? 
There are lots of ways to apply and we are constantly wanting to hear from talent!
– Contact me through Linkedin here.
– View open positions on the website here.
– We always welcome speculative applications via email too! Please reach out via recruitment-ldn@thethirdfloorinc.com
What is your best advice for creating Showreels? 
Some top tips I've learned so far are…
– Use Vimeo as the video quality is better than YouTube.
– Keep it concise so anything under 3 minutes is great! Anything over, we probably won't see out. 
– Use your BEST work, don't try and fill the time with average work, you need to stand out, so best work first. 
What qualities do TTF look for in an Artist?
Within the hiring process, The Third Floor looks for people who are team-oriented and able to take direction well from a Supervisor. Someone who is adaptable, flexible and accepting of change, often tossing out ideas and starting anew. But the most important part is having a passion for storytelling!
You're on the run from a hoard of zombies, what do you do? 
Be more like Joel and Ellie and try to save the world by finding an antidote. 
If not London/LA, where? 
South East London!! Crystal Palace Massive. 
Fictional character you'd share a pint with?
Thomas Shelby!
Describe what you were like as a 10-year-old?
 Athletic. 
If Hollywood made a movie about your life, who would you like to see cast as you?
 Nicholas Cage is in my favourite film, Con-Air so I'd be rude if I didn't say, Nicholas.
People would be surprised if they knew…
I can do a pretty good worm on the dance floor.
TV Show/Film you're ashamed to admit you love! 
The old Love Island Series. 
Go-to karaoke song?
Elvis Presley – Hound Dog.