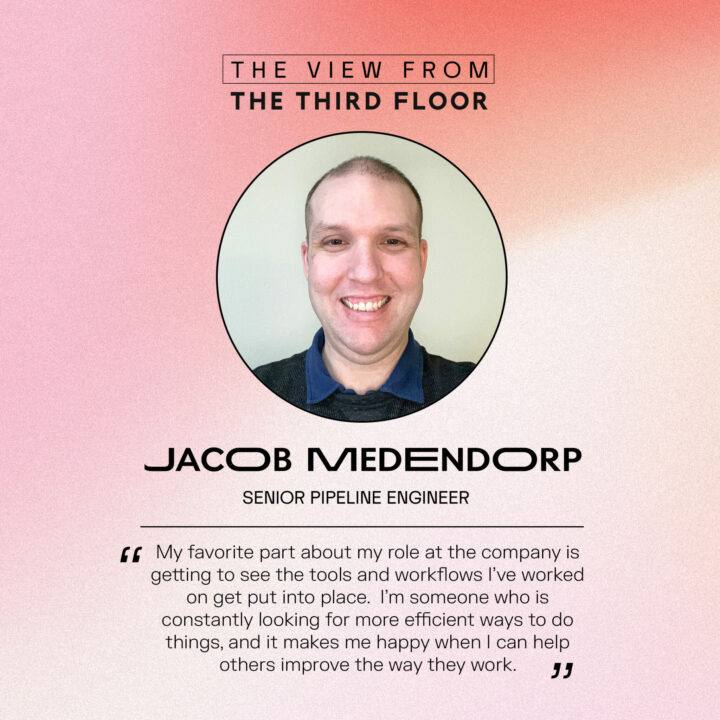 What is your name and what is your position at TTF?
My name is Jacob Medendorp and I am a Senior Pipeline Engineer.
How long have you been with TTF?
It will be 8 years in February.
What does your role look like day to day?
Most days are a combination of meetings and working on my assigned development tasks. I have a bunch of projects in motion at one time, so certain meetings are to get feedback or design ideas about certain workflows or tool improvements. Then, it's on to try to implement that feedback into something useful. Currently, I am working in an online platform that combines databases with web design and automation, so I spend a lot of time in that space.
What led you to work in the visualization and entertainment industry?
For me, it all started when I was a kid in middle school and high school making short movies with my friends. One of the earliest I can remember is we had a series of Saturday Night Live sketches that we called Sunday Morning Tape. Then, in high school, I started filming my own music videos to songs I liked, and because of that I decided to move to LA and go to film school. I actually got my degree in Editing, but eventually found myself involved in the more technical side of post-production. I worked as a Render Wrangler for a couple of years and started learning Python as I learned how to debug various technical problems. I really liked programming, problem solving, and the software development process, so I decided to focus on that aspect. When I started at TTF, my role was heavily support-focussed, but now that the department has expanded, I have been able to develop more complex tools and workflow processes that all of our highly creative and talented people use in their own day to day work.
What is your favorite part about working for The Third Floor?
My favorite part about working for The Third Floor is the people that work here and the culture that they create. It is a culture of collaboration which includes a very diverse group of people with tons of different skill sets. There are so many great ideas and great people who put those ideas into place. Everybody encourages and supports each other, and that only makes us stronger.
My favorite part about my role at the company is getting to see the tools and workflows I've worked on get put into place. I'm someone who is constantly looking for more efficient ways to do things, and it makes me happy when I can help others improve the way they work. I'm glad I've had opportunities to work on a wide variety of workflows.
What advice would you give someone looking to get into this industry?
Try to learn as much as you can from as many people as you can. Don't be afraid to ask questions, and don't be afraid to appear new or inexperienced at something. Everybody has to start somewhere, and anyone who treats inexperienced people poorly isn't worth learning from anyway.
Biggest milestone at TTF / How have you grown here
A few years ago, we decided to upgrade our rendering and review pipeline to make it more flexible for the many types of shows that we support. We gathered feedback from many different departments and I really enjoyed being able to take that feedback and create something that everyone would like. Particularly, I was proud of the system that allowed for tagging of metadata attributes which gives our artists the ability to fully customize the technical data that is handed over to our clients. This involved diving deep into the backend of the system, which I enjoyed a lot as well.
More recently, I've been involved in a company initiative with the Database team. Our goals are to rely more on automation, a central database, and a more fluid user experience for HR, Casting, Production, IT, and Pipeline. I'm really enjoying this work and I can't wait to get it out for people to start using.
What's your favorite creative outlet?
Music is probably my favorite. I have played piano/keyboard since I was 10 years old, and music has always been a big part of my life. I associate so many things with music I was listening to at the time, or vice versa, when I listen to particular songs, they instantly take me back to certain periods of my life. I'm also always looking for new music to listen to.
Where do you draw your inspiration from?
Mostly I like to use technology to improve the ways that people work. So when I see a workflow or user interface that is prone to a lot of errors or prone to a ton of duplicated work, my instinct is to try to think of ways to do it better. It's like a puzzle, and I love solving puzzles.
What was your biggest influence as a kid?
I've always been a huge nerd, so Star Wars was a pretty big influence for me starting when I was young. Once I got a bit older I started getting into more sci-fi and fantasy stuff as well. I'm still waiting for a live action Dragonlance adaptation!
Are you doing anything at the moment to grow and develop your skills?
Currently I am working on learning our no code/low code platform which we will be rolling out soon to help out on the admin side to better track our people, projects, and more. This also involves adding a lot more automation to these processes, which I'm very excited about.
If not London/LA, where?
Probably somewhere in the Pacific Northwest. I'm not really a hot weather person – though lately in LA it's been my kind of weather!
Describe what you were like as a 10 year old
When I was 10 years old, I lived on a farm. My friend and I would build straw forts in his hay mow. We were also really into Star Wars so we would fly missions with our Star Wars toys around the fort and around the rest of the farm. We didn't have a whole lot of the toys, so we would take other toys and put pieces on them to make our own starships. For example, I had the Batwing from Batman Returns and I duct taped extra guns onto it and pretended it was a star fighter.
People would be surprised if they knew…
I can juggle!