Over the past year, numerous film and television scenes have brought ghastly creatures to our screens. The Third Floor (TTF) was excited to help visualize some of these thrills and chills!
The Witcher Season 2 | Released 12.17.2021
Eskel is a creature called a Leshy in Season 2 of Netflix's The Witcher. Mutated from another Witcher, this forest monster resembles a tree intertwined with moss and forest debris and described as something that "lives to kill." The TTF team used motion capture performances to create realistic character blocking for the Leshy in the previs'd scenes. Previs renders included stylized detail, lighting and textures.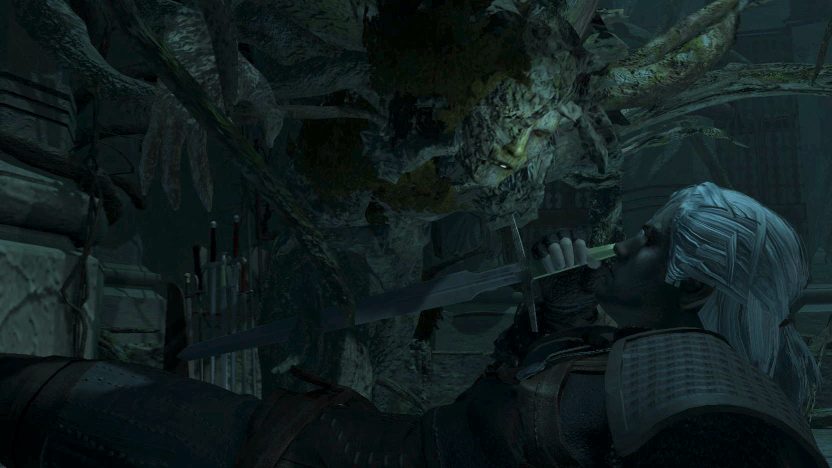 Previs shot of the fight between Eskel and Geralt in the basement lab of Kear Morhen, the Witchers' base. © 2021 NETFLIX
Also from The Witcher, the Bruxa character is a powerful vampire who's natural form is that of a large black bat, but can shapeshift into a human. TTF's Virtual Production tool Cyclops was used to visualize this creature together with real humans, real courtyard elements and CG set extensions. Previs animation for the creature was brought into Cyclops, where it was fed into an AR environment that locked to the set. The show team could then see where the creature was to aid their plans for filming.
Previs creature visualization of Bruxa. © 2021 NETFLIX
Moon Knight | Released 03.30.2022
Moon Knight takes to the tomb, as many Egyption characters and creatures are brought to life in the Marvel streaming series on Disney+.  TTF helped to visualize a pantheon of gods amidst cryptic environments and effects.
Battle of gods Ammit (left) and Khonshu (right) visualized through postvis. © 2022 MARVEL
Doctor Strange in the Multiverse of Madness | Released 05.05.2022
Causing mayhem in the streets of Manhattan in Marvel's Doctor Strange in the Multiverse of Madness is a one-eyed alien octopus called Gargantos. The Third Floor blocked the towering tentacle creature in both previs and postvis. Cyclops AR allowed creatives and crew to roughly see the CG character and the whereabouts of its tentacles on an iPad on set.
Gargantos as blocked in previs for Doctor Strange in the Multiverse of Madness. © 2022 MARVEL
Prey | Released 07.21.2022
The clock turns back to Predator's first visit to Earth in Fox's Prey, a period film and prequel in the popular sci-fi action franchise.  In addition to producing pitchvis with the director, TTF also visualized action, looks and weapons for the advanced and deadly extraterrestrial Yautja.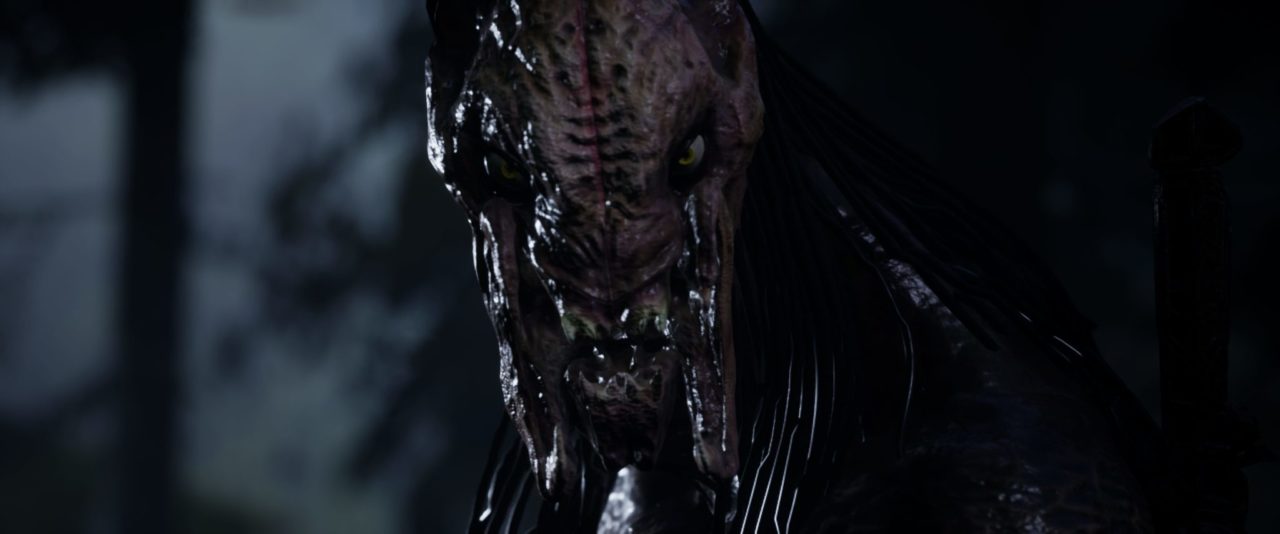 A snarling Yautja captured in previs. © 2022 20TH CENTURY STUDIOS
The Lord of the Rings: The Rings of Power | Released 09.01.2022
Amazon Prime Video's The Lord of the Rings: The Rings of Power boasts a wonderful cinematic experience throughout the series.  In a suspenseful scene from episode 1, Galadriel and her companions explore the vacant fortress of Morogth and soon find themselves being attacked by a terrifying snow-troll. TTF worked with the show team to visualize the action in previs.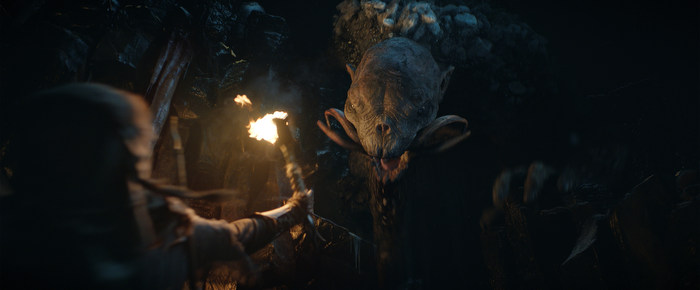 Final studio VFX shot of the snow-troll appearing in Episode 1 of The Lord of the Rings: The Rings of Power. Image courtesy of Amazon Studios.
She-Hulk: Attorney at Law | Released 08.18.2022
As an amateur magician tries to woo the crowd with cheap tricks in Marvel's She-Hulk: Attorney at Law on Disney+, he decides to wow the audience using the mystic arts.  When his actions open up a portal leading to another dimension, hundreds of bat-like creatures fly out. TTF previsualized this scene to help block out the action sequence as She-Hulk and Wong fight the demons and throw them back into the wormhole.
She-Hulk and Sorcerer Supreme Wong deal with demons in this previs for She-Hulk: Attorney at Law. © 2022 MARVEL
Werewolf by Night | Released 10.07.2022
After inheriting a bloodline curse the night before his 18th birthday, Jack Russell becomes a human/wolf hybrid in Marvel's Disney+ special Werewolf by Night. TTF worked with show creatives and their teams to visualize and block transformation effects and action, including Jack's capture/escape in the third act, that play on light and shadows.

Previs shot showing Jack Russell transformed into a werewolf. © 2022 MARVEL
Man-Thing (AKA Ted Sallis) is a giant swamp creature with glaring red eyes and an elephant-like trunk. TTF prevised the reveal of Man-Thing when Jack comes across him in the maze, but to viewers' surprise, Man-Thing is not as scary as he looks.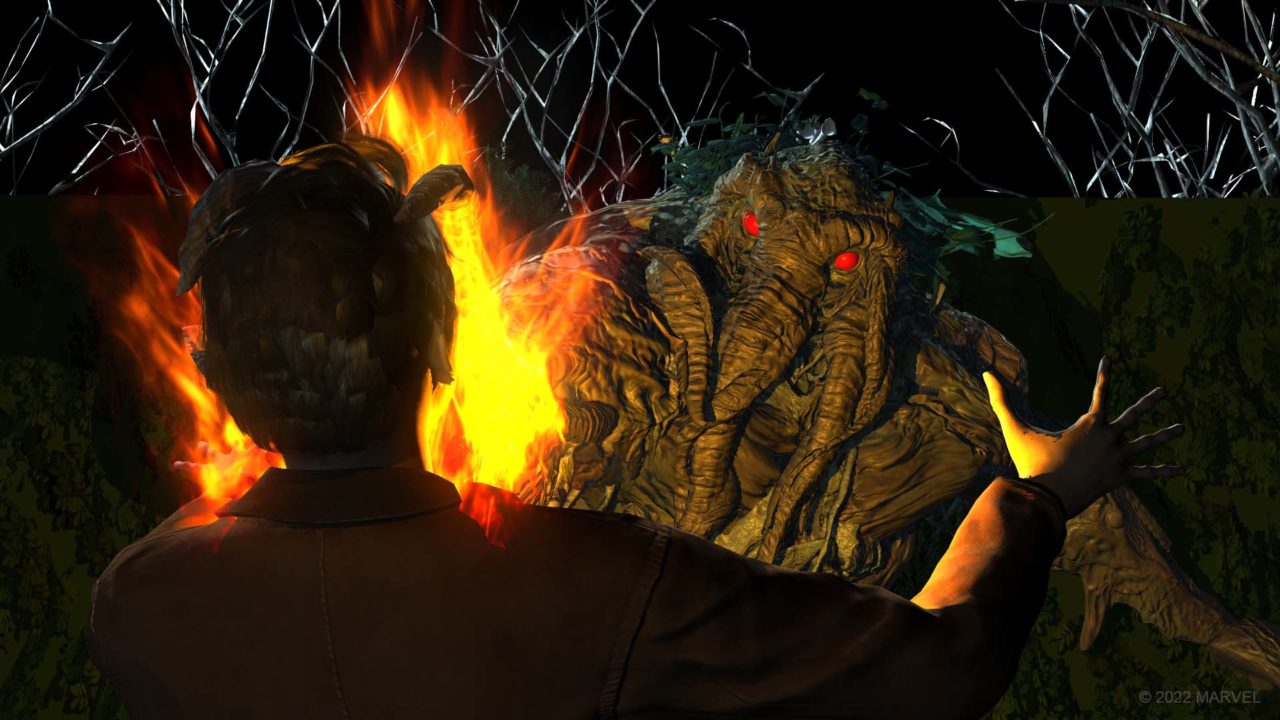 Previs shot of Man-Thing as he's tracked by a monster-hunting gang.  © 2022 MARVEL