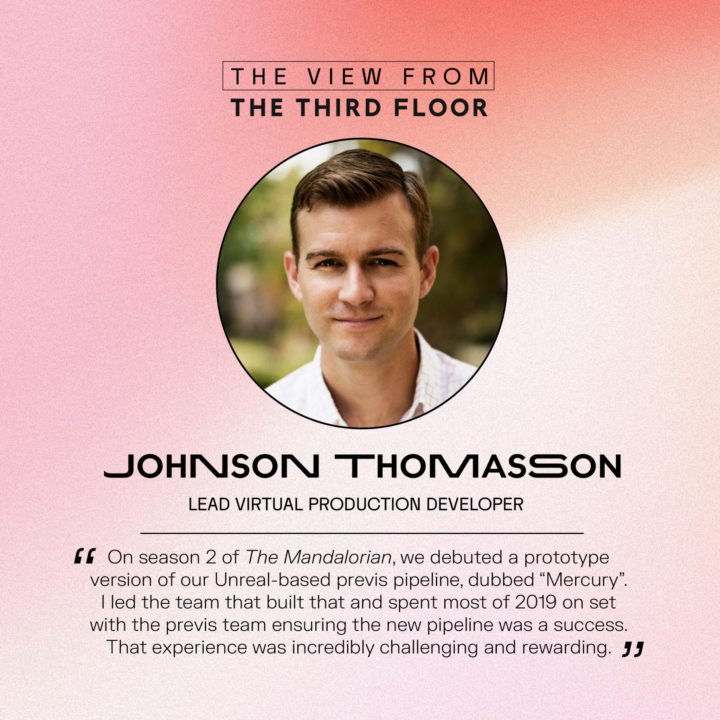 What is your name and what is your position at TTF?
My name is Johnson Thomasson, and I'm Lead Virtual Production Developer at The Third Floor.
How long have you been with TTF?
I joined The Third Floor right out of grad school in 2017 on a two week contract. Almost six years later and I'm still here!
What does your role look like day to day?
As a lead developer, my primary responsibilities are writing and maintaining the software tools that aid our artists in doing amazing work for our clients, and leading other developers in doing the same. I stay in touch with artists that are actively working on shows, to understand their pain points and get ideas for new tools or workflows that we can create. I strategize with the other lead devs about our long-term tech roadmap. My special area of focus is Virtual Production, which includes hands-on tech like motion capture, VR, Virtual Camera, and Cyclops, our mobile AR solution. I'm really passionate about these modes of interacting with story content, and I'm constantly trying to build a toolset that is intuitive for clients to use and effectively captures their creative choices.
What led you to work in the visualization and entertainment industry?
Looking back, there were two tracks in my life running parallel for a long time, which converged at The Third Floor: computers and filmmaking. I grew up in small towns in Mississippi, and I was homeschooled through 9th grade, which gave me a lot of time to read and explore my interests. I was learning to model in Blender and modding PC Baseball games at age 12. I started making home movies around the same time. Through high-school I wrote and directed a few amateur short films with friends. I studied computer science in college and continued to make short films in my spare time. I became truly obsessed with filmmaking. After a few years working in IT, I had the privilege of going to USC for a master's in film production. While there, I had two professors who were working on The Jungle Book, and through conversations with them I realized this still nascent process of virtual production was right up my alley. My first virtual production project at The Third Floor was working on Disney's Christopher Robin as the virtual camera operator.
What is your favorite part about working for The Third Floor?
Company culture comes from the top-down and TTF's founders, who are still active at the company, have created a culture that's a joy to be a part of. There's a great balance here between getting the job done and having fun doing it.
What advice would you give someone looking to get into this industry?
There is room for you. If you want to be a part of the industry, you can be. Practice learning, it's a skill. When learning software that you plan to use professionally, follow rabbit trails. Develop a broad and deep knowledge of it. You don't want to have a fear of the unknown corners of the software you use every day. You want the confidence that comes with having explored those back alleys and realized, "oh that wasn't so bad." Also, know where the manual is. Make a bookmark to it. RTFM (Read the f****** manual). Keyboard shortcuts are your friend. Try learning a little Python. Just try it. You might like it.
Biggest milestone at TTF
On season 2 of The Mandalorian, we debuted a prototype version of our Unreal-based previs pipeline, dubbed "Mercury". I led the team that built that and spent most of 2019 on set with the previs team ensuring the new pipeline was a success. That experience was incredibly challenging and rewarding.
What's your favorite creative outlet?
Does laying out Blueprint nodes in Unreal count? Kidding! I still harbor aspirations of directing a first feature (and hopefully more) one day. I have a number of stories in various stages of development that I work on in my free time. I'm considering doing an Unreal-based short in the not too distant future.
Where do you draw your inspiration from?
Lately, my kids. Kids give you a second chance to see the world for the first time.
What was your biggest influence as a kid?
The Rocketeer – Joe Johnston is the man.
Are you doing anything at the moment to grow and develop your skills?
I devote a small portion of every day to following a technical rabbit trail. I don't have time to take a full class right now, but I like to identify questions I have about the software or programming languages I use every day. Is this thing possible? Then I'll set up an experiment to find the answer. Often the answer isn't yes or no, it's just a series of new questions.
You're on the run from a hoard of zombies, what do you do?
Make a kickass movie about it!
Fictional character you'd share a pint with
Indiana Jones
Describe what you were like as a 10 year old
Imagine a quiet, low-stakes little league baseball game. The pitcher is waiting for the batter to step in the box. The players stand quietly. Nothing is happening. Except… out in the outfield… the center fielder is running and diving for an imaginary fly ball. And getting up and running and diving again. And again. In his head, he is in the center of a VERY dramatic game. That was me.
People would be surprised if they knew…
I was once pulled on stage to rock out with Jared Leto and Thirty Seconds to Mars.