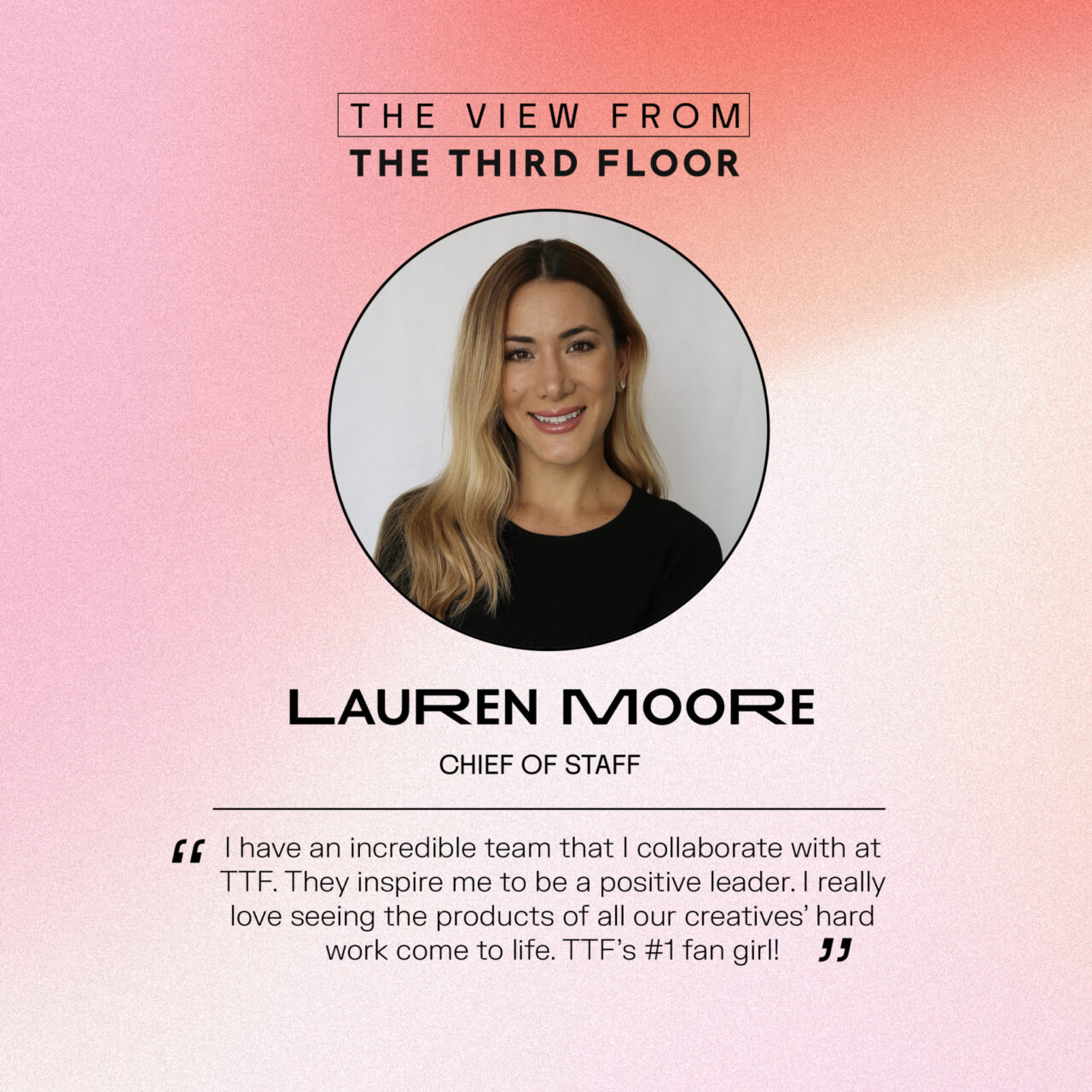 What is your name and what is your position at TTF?
Lauren Moore, I'm the Chief of Staff at The Third Floor
How long have you been with TTF?
Almost 12 years.
What does your role look like day to day?
I lead communications and marketing, manage company initiatives, and spearhead special projects. I work closely with our CEO and department heads daily to magnify the company's brand presence and foster an inclusive and fun team culture.
What led you to work in the visualization and entertainment industry?
I knew I wanted to work in Los Angeles in the entertainment industry after college and found a home at The Third Floor that allowed me to grow professionally through our continuous expansion. I've always accepted new challenges and found a passion for strengthening awareness of visualization across multiple industries and locations around the world.
What is your favorite part about working for TTF? 
I have an incredible team that I collaborate with at TTF. They inspire me to be a positive leader. I really love seeing the products of all our creatives' hard work come to life. TTF's #1 fan girl!
What advice would you give someone looking to get into this industry?
Make it your job to get a job, you get out what you put in and the rewards always come.
Biggest milestone at TTF / How have you grown here ?
At TTF, I've worn multiple hats. One of my biggest accomplishments has been outfitting multiple studio locations, including Beijing, Atlanta and building our headquarters in Los Angeles.
When not at TTF, what is your passion?
I really enjoy spending time outdoors and supporting others through my wellness and life-coaching practice.
Where do you draw your inspiration / motivation from?
I stay motivated by always keeping myself energized and having work-life balance. My inspiration comes from continuously setting new career goals and staying in the know about exciting industry evolutions.
If not LA, where?
Where the oceans are warm, the sand is soft and the food is spicy. Accepting recommendations.
If Hollywood made a movie about your life, who would you like to see cast as you?
Jennifer Lawrence because I admire her wittiness.
TV Show/Film you're ashamed to admit you love!
Name any rom-com, I've seen it!