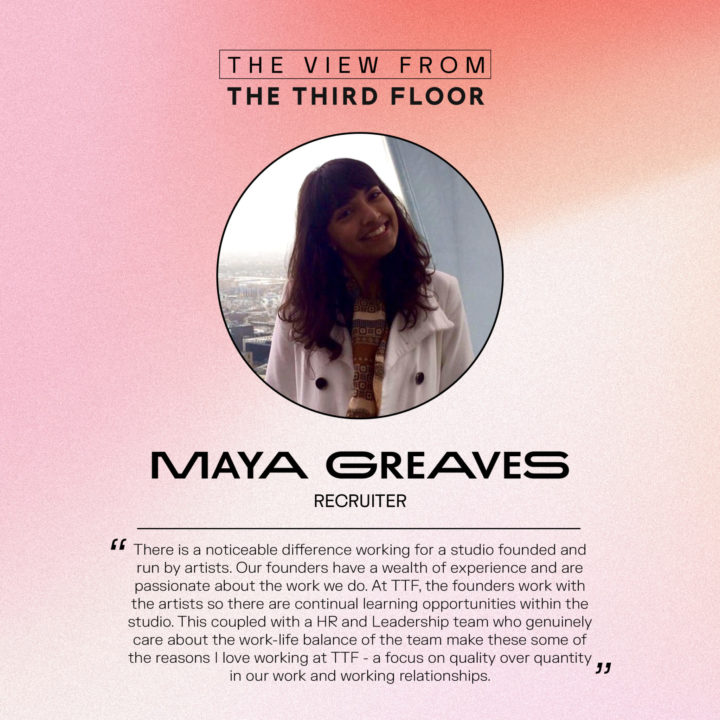 What is your name and what is your position at TTF?
Maya Greaves, Recruiter
How long have you been with TTF?
8 months
What does your role look like day to day?
It changes depending on the hiring needs for new and existing shows. The daily items include: looking at artist reels/portfolios and sharing shortlisted ones with our supervisors for review; responding to applicants via our ATS (Applicant Tracking System); replying to LinkedIn and email inbox messages; scheduling and attending interviews; following up with candidates; meeting hiring managers to discuss hiring needs; and catching up with the lovely people who are already in our talent pool! Occasionally there are job descriptions to refresh and new job roles to post. Currently, there is lots going on with our Outreach program where we work with universities, schools and industry festivals to support and meet entry level talent looking to join the industry. This is probably my favourite part of the role. 
What led you to work in the visualization and entertainment industry?
From about the age of 7, I'd say 'I want to make cartoons' when I was asked what I wanted to do when I was older. I took Art for GCSE and A-Levels, then completed an Art Foundation year at college, before doing a degree in Animation. I think I peaked as an animator when I was selected for a creative residency with DJ Yoda in 2014. He put together a band and 4 animators to help him make an album and an AV show. We had 5 days to complete the EP 'Breakfast of Champions', ready for it to be performed live in Manchester on Friday night. The whole experience was incredible! 
I moved to London and had around 4 years out of the creative world before joining VFX, then went down the route of studio support roles in Production, Talent and Recruitment. I love to work in creative spaces and with creative people.
What is your favourite part about working for TTF?
There is a noticeable difference working for a studio founded and run by artists. Our founders have a wealth of experience and are passionate about the work we do. At TTF, the founders work with the artists so there are continual learning opportunities within the studio. This coupled with a HR and Leadership team who genuinely care about the work-life balance of the team make these some of the reasons I love working at TTF – a focus on quality over quantity in our work and working relationships. 
What advice would you give someone looking to get into this industry?
Plan. Think about what role you would like to do, the studios and locations you'd like to work. 
Research. Roles vary within studios and between studios. Read job descriptions carefully. 
Connect. Make connections at studios via events and on LinkedIn. Find out exactly what they are looking for in skills and experiences and seek feedback on your work often.
Learn. Focus on learning the skills and gaining the experiences needed for the role you are working towards. 
Present. Demonstrate you have done this in your portfolio / reel / CV. 
Persevere. People in the industry will confirm it rarely happens overnight and you are likely to have some stepping stone roles before you make it to your end goal but keep on going. It will be worth the journey! 
ART
What's your favorite artform?
Animation. Whether it's 3D CGI, 2D motion design, hand drawn frames, stop motion, a zoetrope! Games, commercials, film or idents. It's mad and beautiful how the illusion of movement can move people. 
Where do you draw your inspiration from?
For the past few years, it's been my son. He's 4 and has some great negotiating skills, which make an appearance at bedtime. His techniques inspire me within my role.
What piece of media was the biggest influence on you as a kid?
TV, for sure. 'Zzzap', 'Are You Afraid Of The Dark?', 'The Simpsons', 'Ren & Stimpy'. I was fascinated with MTV for the videos as much as the songs themselves. I remember staying awake until very late (like, 9pm… that's late when you're 6!) for the world premiere of Michael Jackson's 'Earth Song' video. I then spent the next couple of months reenacting the bit where he holds onto two trees, every time I saw two trees in the park: 'Ah-ah-ah-ah-ah, Ooh-ooh-ooh-ooh-ooh!'. 
MTV had some cool cartoons (Beavis and Butthead, Daria, etc) and funky idents that didn't have the corporate feel of others. As a bigger kid, I grew an appreciation for more abstract videos – Aphex Twin's 'Window Licker', Unkle's 'Rabbit in Your Headlights' and Radiohead's 'Just'. Sci-Fi channel had some great shows – Stargate SG-1, Mystery Science Theater 3000, Quantum Leap, etc. I haven't watched live TV in years so I'm not sure if these channels still exist!
FUN
You're on the run from a hoard of zombies, what do you do?
… keep running?
If not London/LA, where?
If not London, then anywhere with a warmer climate and lots of greenery… but not too far from a city as I like city comforts. A beach nearby would be good too. And a mountain view. It'd be nice to have snow in the winter as well. Does such a place exist?
Fictional character you'd share a pint with?
Walter Bishop from Fringe. I recently got into the show and know a pint from a conical flask with Walter would be far from boring.
Describe what you were like as a 10 year old?
Very much like I am now… but with less responsibilities.
If Hollywood made a movie about your life, who would you like to see cast as you?
Sid the Sloth. 
People would be surprised if they knew…
…I'm often more nervous when interviewing others than when I am being interviewed myself. 
TV Show/Film you're ashamed to admit you love!?
Gilmore Girls. I may have watched it a few times over… and cried at times, laughed too. I don't really like it. 
Go-to karaoke song?
I usually sneak away from the group between the walk from the pub to the karaoke bar, so I get away with not picking a song!