CONGRATULATIONS TO
THE THIRD FLOOR LONDON
10 Years of Visualization
We can hardly believe that our European hub is turning 10, having expanded more than 20 fold since its launch 10 years ago! Please join our incredible London Team in celebrating a decade of virtual exploration and sequence design across film, television, games, and immersive entertainment! We truly appreciate all our clients (local and abroad) for their amazing and inspiring productions, and for the opportunity to be a collaborator in their process for realizing some of the industry's most cinematically engaging IPs. THREE cheers for mammoth giants, marvelous heroes, dark villains, gravity-defying action, wonder-driven stories, immersive tomb-raiding, time-jumping tomorrows, flame-throwing techno-dragons, fantastical creatures, cinematic sleights of hand, biblical sea-splitting, otherworldly dimensions,
and a fair amount of space smuggling!
Since 2011, our London studio has been dedicated to trail-blazing artistry and technical innovations that support directors and their crews as they bring their vision to life for eager fans all around the globe. TTF London and The Third Floor Founders are humbled by the creative community that has so generously embraced our team, tools and process. Thanks for encouraging us to continue pushing the bar of visualization into ever more ambitious worlds and stories!
"The Third Floor London is 10 years young! We're thrilled to be celebrating our 10th year in London. After the most extraordinary year that we've all battled through, TTF just keeps getting stronger and stronger. We've never been busier nor had such talent in our ranks. Thank you to all our beloved clients and staff for making this milestone a reality. Here's to the next decade, and many more to come." – Tim Keene, Managing Director

"Having worked adjacent to The Third Floor for many years, I'm genuinely thrilled to be joining the family at a time of such exciting growth, and to celebrate the 10 year anniversary alongside our incredible team of 100+ talented artists! I am very much excited for the future and to take part in helping the company continue to grow." – Marcus Alexander, Executive Director
10 YEAR LOOK BACK
Please join us as we take a look back at the past 10 years of The Third Floor London and celebrate just some of our proudest moments.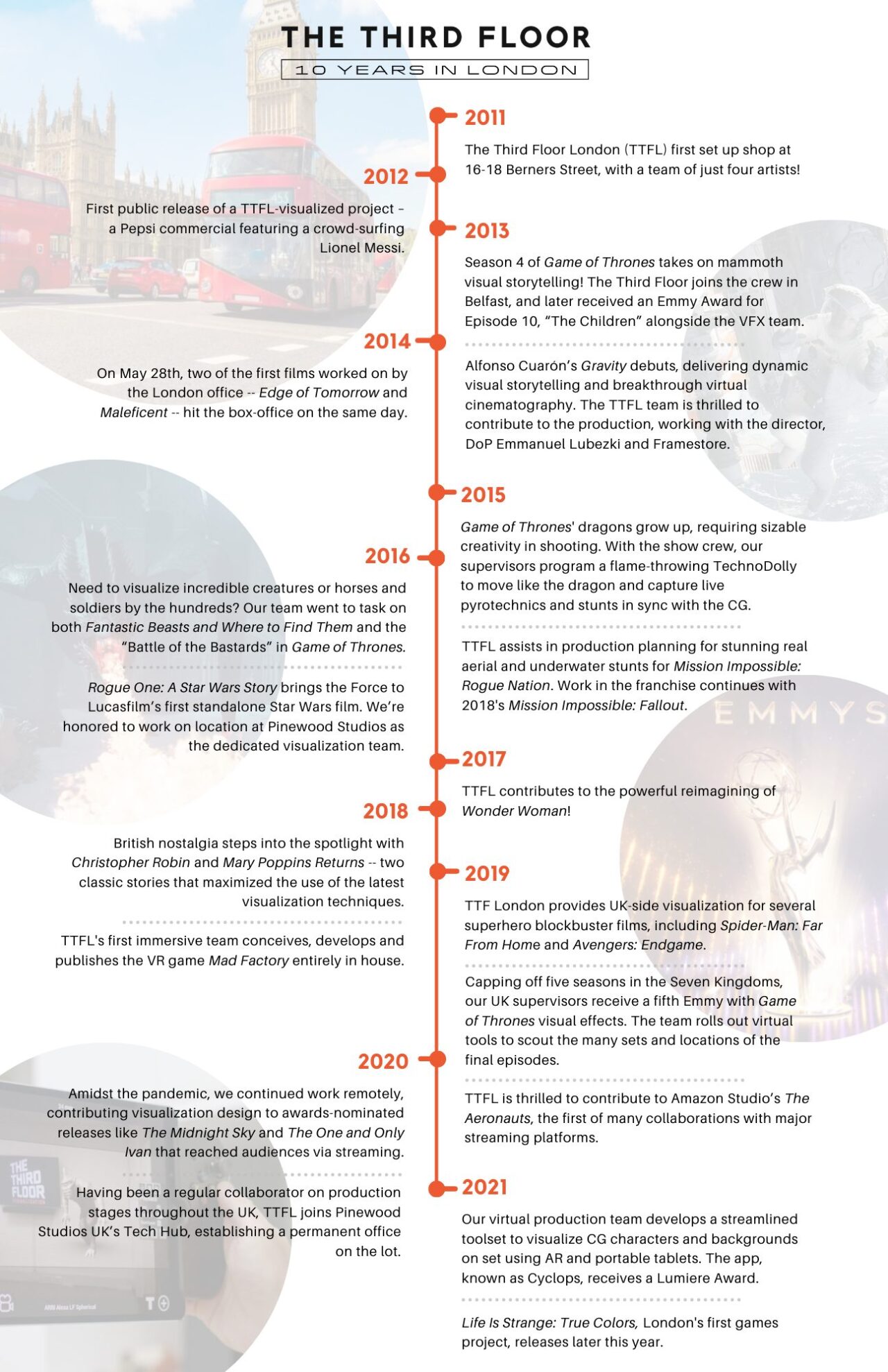 At The Third Floor London, we are so grateful to our amazing clients and collaborators, and all of our incredibly talented and dedicated TTFL team members — now numbering more than 100 strong! We're inspired by the last 10 years of incredible experiences to keep pushing the boundaries of creative storytelling, and to help feed the insatiable appetite of audiences around the world! Bring on the next 10 years of visualization!