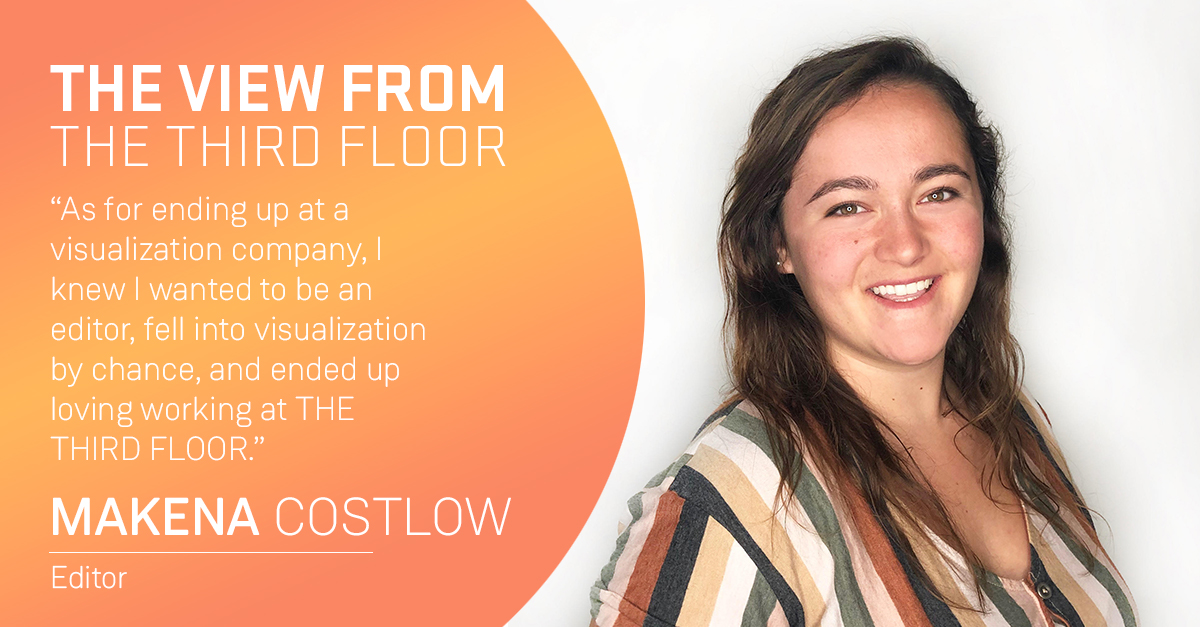 What is your name and what is your position at TTF?
Makena Costlow — Editor
How long have you been with TTF?
Over 3  years
What does your role look like day to day?
As a Visualization Editor, I get shots from my team and edit them together so we can deliver those edits to the client for review. Prior to being a Show Editor, I worked as the company's Assistant Editor. I was in charge of organizing THE THIRD FLOOR'S best material into an easy to navigate library. This helped when we needed immediate access to our best work for acquiring new clients and editing marketing reels. Throughout the day, people would come to me with varied requests, so I ended up wearing a lot of hats in the Marketing and Editorial departments. Now this role is taken on by our amazing new Junior Editor.
What led you to work in the visualization and entertainment industry?
My mom is a TV Production teacher at a high school so as a kid, I was always making videos. Instead of making PowerPoints for school projects, I made videos with my mom's help. Then I started making YouTube videos for fun as young as 3rd grade. In high school, I got into screenwriting and in college, I majored in directing. I always loved making films and my parents' recognized that so when it came time to apply to college, they really encouraged that as a career for me. After college, I knew I wanted to be an editor, fell into visualization by chance, and ended up loving working at THE THIRD FLOOR.
What is your favorite part about working for TTF? OR your role?
Back when we worked in the office, I loved the company culture and how there was always something going on to keep my work life exciting. We had everything from Candy Days to Fun Fridays. Nowadays, THE THIRD FLOOR makes work from home as interesting as possible with virtual Coffee Wednesdays and even an Outdoor Challenge where we had to get outside every day for at least 20 minutes. I might not have secured the win in that challenge but I landed runner up!
As a Visualization Editor, I love being part of a much greater goal. It's an honor to work on shows that my friends and family know and love. As the company's Assistant Editor, I loved that my role was very diverse. I could be editing at my computer for hours then get a request that took me around the office, talking to people or filming a presentation. It got me on my feet and made it so that my job was never boring.
What advice would you give someone looking to get into this industry?
I went the route of going to college for Film Production which was great to make connections and gain skills. It made it so that when I was applying to jobs post-grad, I felt confident in my skill set and ability to jump right into being an Assistant Editor. If you don't want to go the college route and want to be an Editor, I'd suggest starting as a Post-Production Assistant and working your way up so that you can build connections and specialized skills. You'll need skills that make you stand out. For example, if your company works with Premiere and Avid, but the company's current Post PAs only know Premiere. Learn Avid so you stand out and are on a fast track to getting promoted. Give them a reason to keep you around over anyone else.
Biggest milestone at TTF?
When I first started as Assistant Editor, I was only editing on occasion but by the end of the two years in my role, I was editing everyday and doing less Assistant Editor tasks. Now my biggest milestone is being promoted to a Show Editor.
What's your favorite art form?
The combination of music and video. Not necessarily just music videos but the way they come together even in narrative films.
Where do you draw your inspiration from?
Here at The Third Floor, we have a Learning and Development program called Director's Masterclass where employees can apply and learn directing skills. When it comes to finding inspiration for directing, I pull from my life and the world around me. I typically get inspiration for my characters from the people around me and inspiration for the topic of my work from themes I want to explore in my own life.
If Hollywood made a movie about your life, who would you like to see cast as you?
This is always a hard question, but I'd say Selena Gomez. She may not be an Academy Award winning actress but I feel she looks enough like me and would be easy to work with.
What is your guilty pleasure movie?
My guilty pleasure is Justin Bieber: Never Say Never. I've watched that movie one million times. He did whatever he set his mind to and I think that had a big influence over me coming out to California for college instead of staying close to home and attending NYU.
Go-to karaoke song?
Empire State of Mind by Jay-Z and Alicia Keys