THE THIRD FLOOR Celebrates Fifth Emmy with Game of Thrones Visual Effects Team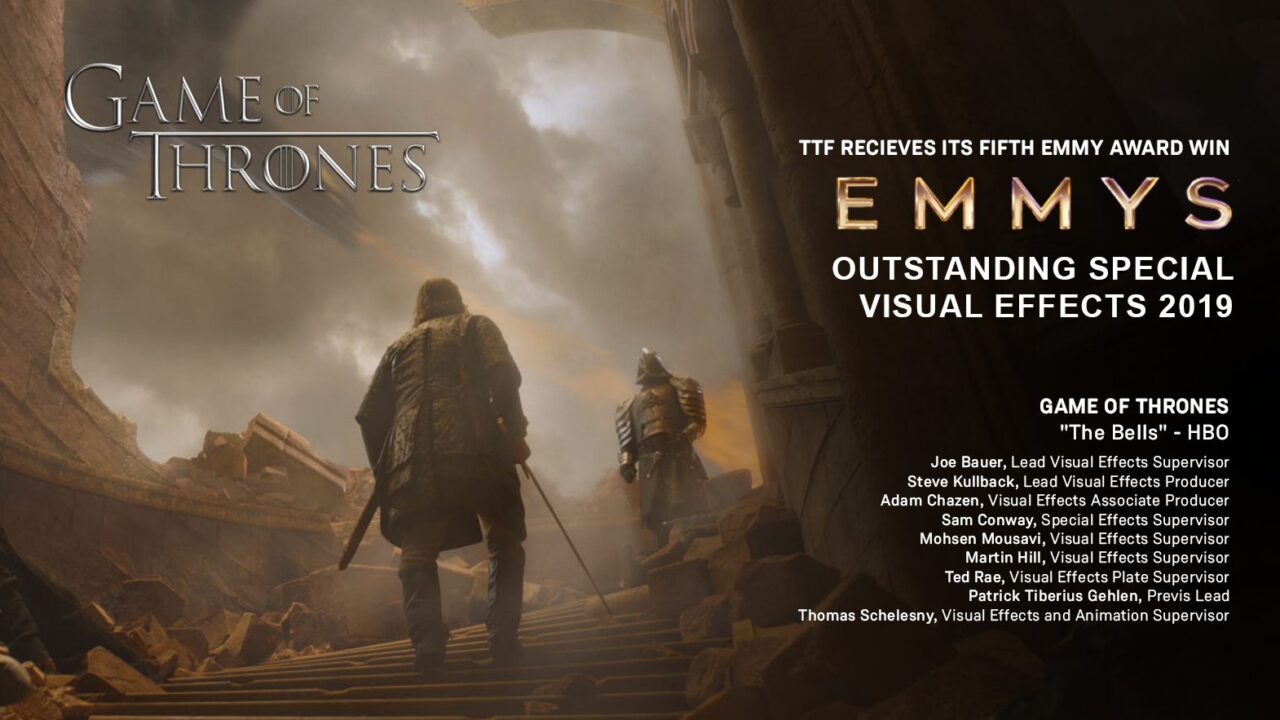 THE THIRD FLOOR is honored to have received a 2019 Creative Arts Emmy® for Outstanding Special Visual Effects with the visual effects team for HBO's Game of Thrones. As the show's providers of previs, technical visualization and virtual production integrated in Belfast for the past half decade, our supervisors and artists are thrilled to celebrate a fifth Emmy Award for this work — and what has been an incredible journey on the series!
The scope and scale of the finale season called for multiple new innovations, including scouting of sets and environments in VR, actor eyelines based on moving LEDs and CG characters overlaid live for the directors and crew during filming.  Season 8, Episode 5 "The Bells," this year's Emmy-winning episode for Special Visual Effects, presented the most challenging previs assignment yet, as THE THIRD FLOOR artists helped design an apocalyptic journey for Arya Stark across King's Landing to meet Director Miguel Sapochnik's vision.  The episode also saw visualization, virtual production, motion control and practical production tech coming together to achieve shots that sent Euron Greyjoy flying from his ship deck and Dany and Drogon destroying an entire city grid.
"The Bells" follows on earlier hallmark episodes of Game of Thrones that also received Emmy Awards for visual effects and that leveraged work such as previs, techvis, motion base solving, motion control  programming and virtual production.  Those scenes include the Wildling Wall Attack of Season 4 ("The Children"), the Meereen Fighting Pit of Season 5 ("A Dance with Dragons"), the Battle of the Bastards in Season 6 ("Battle of the Bastards") and the Frozen Lake Rescue of Season 7 ("Beyond the Wall").
Key members of THE THIRD FLOOR's Season 8 team include: Michelle Blok, previs supervisor, Patrick Gehlen, previs lead, Eric Carney, additional VFX supervisor, Kaya Jabar, virtual production/motion control supervisor and Casey Schatz, virtual production/motion control supervisor.
"It's such an honor to receive this award," said Previs Lead Patrick Gehlen, who represented THE THIRD FLOOR within the Season 8 Emmy-winning VFX team. "Game of Thrones was a truly epic show and it took an army of the most talented people I have ever met to make it happen. That includes VFX production leads Steve Kullback and Joe Bauer and all of my colleagues from THE THIRD FLOOR and around the production. From bringing Jon Snow through multiple complex battles to helping figure out how to annihilate King's Landing to dragons, giants, wights, long nights and everything in between, it was an unforgettable journey."
In collaboration with VFX and special effects, the team helped create realistic fire effects via a process that involved running practical flamethrowers on everything from Technodolly cranes to high-speed cablecams, robots and sleds to mimic the dragons. The visualization work also regularly informed the design and construction of sets, placement of actors, props and extras, VFX production passes, greenscreen calculations, camera speeds, distances and setups and much more.
Outstanding Special Visual Effects Game Of Thrones "The Bells"
HBO Entertainment in association with Bighead, Littlehead; 360 Television/Startling Television
Joe Bauer, Lead Visual Effects Supervisor
Steve Kullback, Lead Visual Effects Producer
Adam Chazen, Visual Effects, Associate Producer
Sam Conway, Special Effects Supervisor
Mohsen Mousavi, Visual Effects Supervisor
Martin Hill, Visual Effects Supervisor
Ted Rae, Visual Effects Plate Supervisor
Patrick Tiberius Gehlen, Previs Lead
Thomas Schelesny, Visual Effects and Animation Supervisor
Congratulations to HBO and the entire crew on Game of Thrones for all of the achievements recognized in Season 8 and across the entire series, and thank you for this remarkably one-of-a-kind experience.