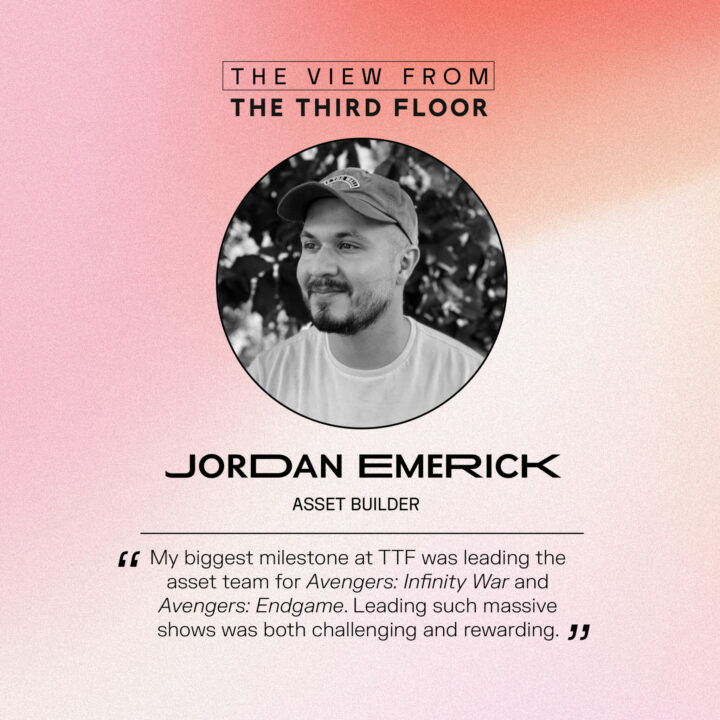 What is your name and what is your position at TTF?
Jordan Emerick. Asset Builder
How long have you been with TTF?
13 Years
What does your role look like day to day?
I tend to start my days meeting with the supervisors and getting a gauge on the overall assets needs of the show. This is my favorite part of what I do, as it usually involves a cup of coffee. Brainstorming with supervisors about asset creation really gets me hyped up. If I am acting in a lead position on that show then I will get with my other asset builders in on the conversation, and divy up tasks. For the most part I'm building anything the show needs me to build; Characters, environments, props etc. Aside from looking at the show needs, I'm also keeping an ear out for shot creator needs.
What led you to work in the visualization and entertainment industry?
After college, I broke my foot at a skatepark and was forced to start taking my life seriously. I interviewed at TTF on crutches without knowing very much about visualization. In no time at all, I fell in love with the people and craft and haven't looked back. The fact that we work on movies was just icing on the cake.
What is your favorite part about working for The Third Floor? AND/OR your role?
TTF does a great job at fostering an environment for a creative person to pursue their endeavors on some of the best shows the industry has to offer.
Role
I like that, as an asset builder, I get to be a true generalist. The role allows me to expand my craft in a way that keeps me from ever getting burnt out.
What advice would you give someone looking to get into this industry?
Don't assume you have to master your craft to get into the industry. You will learn A LOT on the job. Sometimes just being good at something is enough to start you on your way.
Biggest milestone at TTF / How have you grown here
My biggest milestone at TTF was leading the asset team for Avengers: Infinity War and Avengers: Endgame. Leading such massive shows was both challenging and rewarding.
I've grown the most in how I perceive the asset builder's role in effecting the inherent structure of a show, especially in regards to large shows that run for a long time. Foresight and planning is an endless pursuit, and that is a perspective that I couldn't fully grasp when I first started.
One example of this was the Environment Template that I had developed with the guidance of Gerardo Ramirez. The environment template gave asset builders and shot creators the ability to resolve a lot of confusion around ENV organization. The template mainly used a complex web set driven keys to house your Lights, FX, proxy geo, Lidar geo etc. It was a very fun endeavor, though probably a little outdated by todays workflow demands.
What's your favorite creative outlet?
If I get the time, and the weather is good, I skateboard.
Where do you draw your inspiration from?
At the moment, I'm in Dad mode. Most of my inspiration is drawn from watching my son experience new things and grow into his own person.
What was your biggest influence as a kid?
Way too much TV and Video Games
Are you doing anything at the moment to grow and develop your skills?
In addition to learning unreal, I'm also trying to grow my understanding of Zbrush.
If not London/LA, where?
Somewhere in the mountains with lots of trees.
Fictional character you'd share a pint with
Conan The Barbarian
Go-to karaoke song
You Never Even Called Me By My Name- David Allen Coe