Doctor Strange takes audiences on a thrilling traverse of realities in Marvel's Doctor Strange in the Multiverse of Madness. The Third Floor collaborated from pre-production to post, working with the director and key departments as shots were blocked in previs, postvis and techvis. The Third Floor also provided handheld virtual production tools available to be used by filmmakers and crew to view planned CG elements in context with their physical set builds and locations.
The Third Floor visualization crew was guided by Director Sam Raimi and collaborated closely with VFX Supervisor Janek Sirrs, VFX Producer Cyndi Ochs and VFX Production Manager Greg DiGiacomo, as well as stunt and shooting units. Thousands of shots were visualized ahead of final capture and VFX, working from director discussions and boards to depict the filmmakers' vision for the action and to plan specific production solutions ahead of time. With storylines that show and revisit the same characters, events and locations in different ways, planning for multiple setups and change-outs of set was key, as was meeting the logistical challenges of shooting throughout COVID.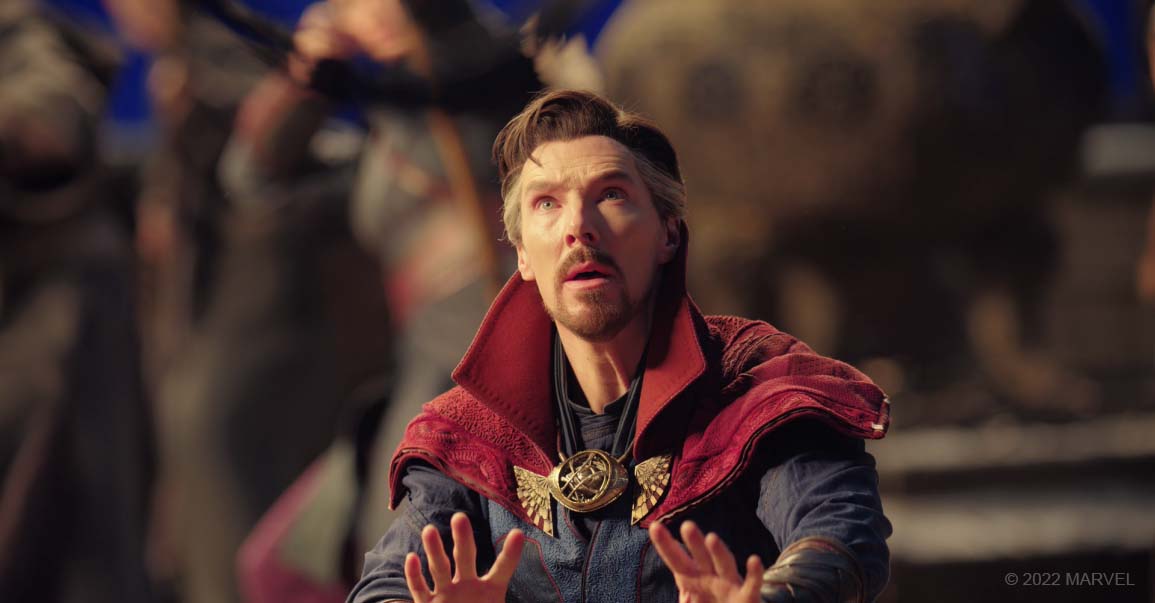 (Live action as captured in the production plate in Doctor Strange in the Multiverse of Madness. © 2022 MARVEL)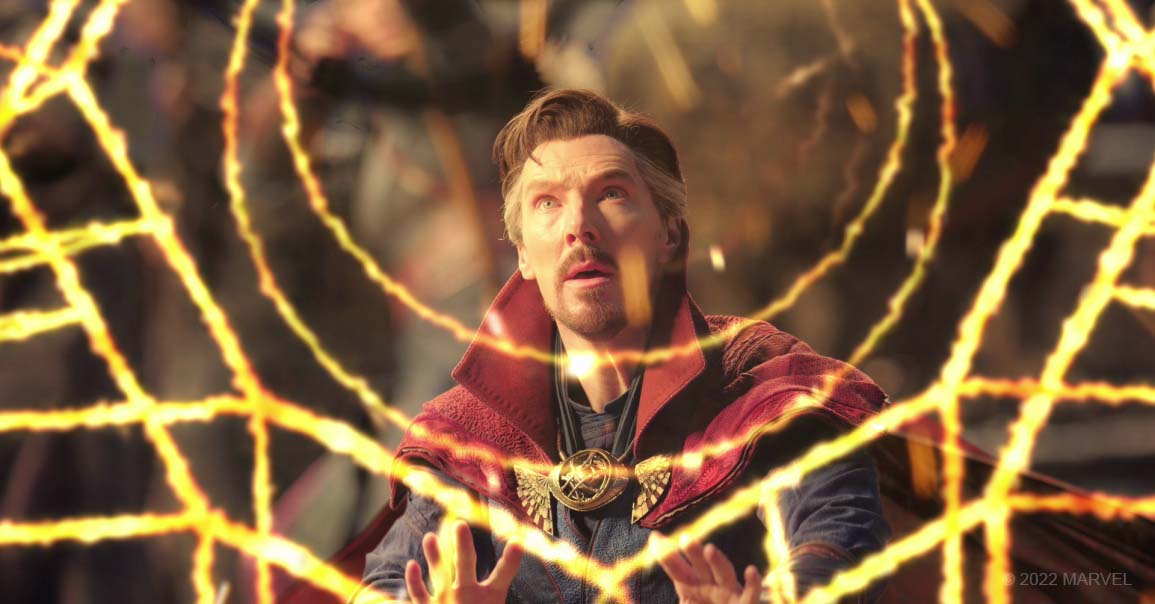 (Doctor Strange's powers depicted in postvis with live-action photography in Doctor Strange in the Multiverse of Madness. © 2022 MARVEL)
"This project was unique in that it involved the 'multiverse,' with multiple variants of locations, people, events and effects, so there were particular considerations for looks and ways to shoot and reconfigure the same set, either in exactly the same way so one would notice the things that had changed, or very differently because that set was then meant to look like another place or another time" said Hamilton Lewis, visualization supervisor, The Third Floor. "Through visualization and different tools in techvis and virtual production, we could help support the level of planning and design that these complex shots and physically challenging shooting days needed. In addition, it was just a lot of fun to help represent the vision they were going for with the movie's use of magic and mind-bending visual effects."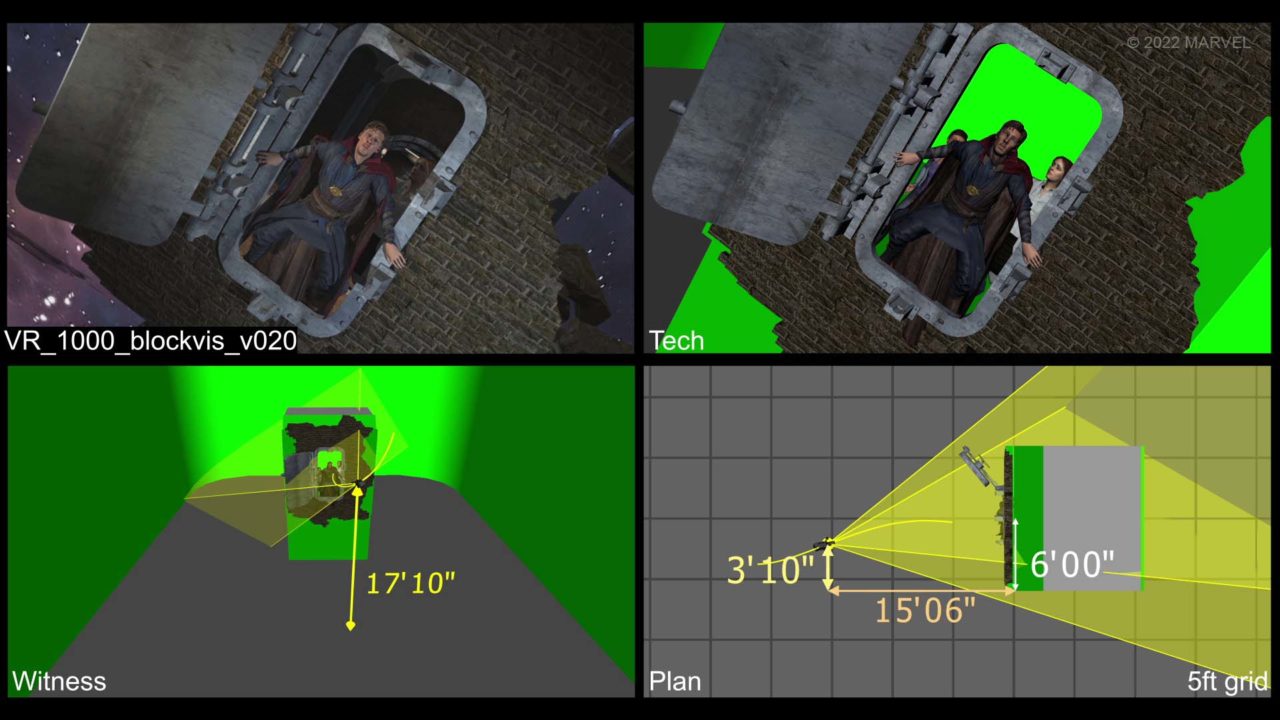 (Techvis for a shot when Doctor Strange enters the Vishanti Temple in Doctor Strange in the Multiverse of Madness. © 2022 MARVEL)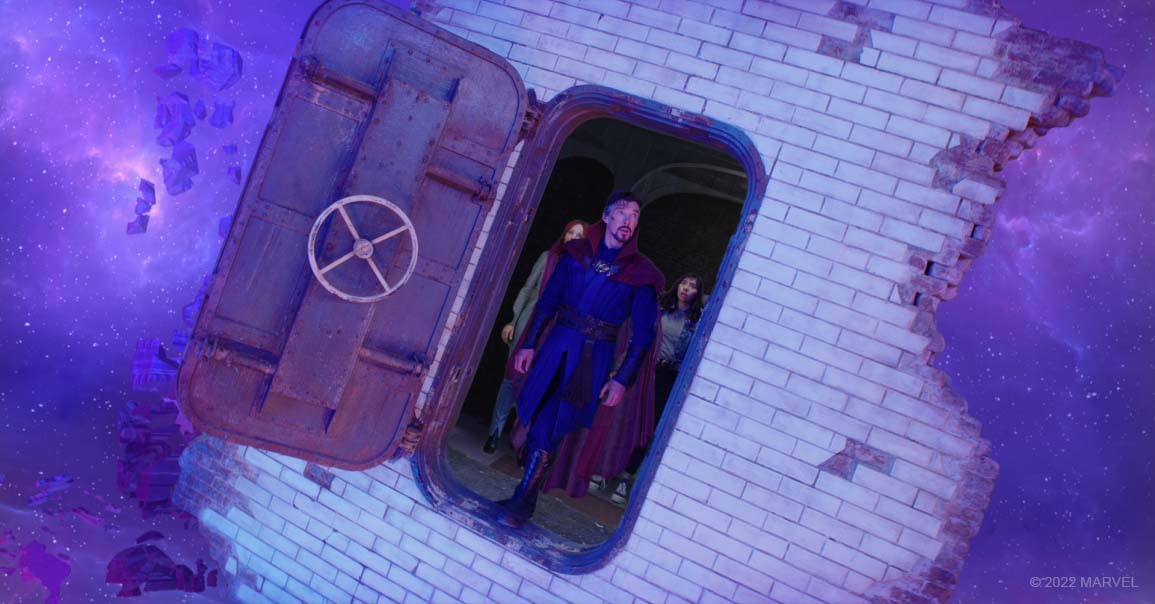 (Postvis, replacing greenscreen and temping in background effects, in Doctor Strange in the Multiverse of Madness. © 2022 MARVEL)
The Third Floor worked on 40 sequences, notably including a showdown with a giant octopus in Manhattan, aerial attacks at the masters' Himalayan training site and a multi-pronged battle at Illuminati headquarters. For the Tentacle Creature Battle, TTF's AR tool Cyclops, operated on an iPad, provided hand-held views so creatives and crew could roughly see and frame up the CG creature and the positions of its tentacles directly in the live-action filming environment.
(Ideas from the film team as blocked in previs for Doctor Strange in the Multiverse of Madness. © 2022 MARVEL)
To support action scenes for KamarTaj, the team used Cyclops to visualize digital extensions lined up to the real-world set. By viewing cameras, props and set builds within this sum-total environment and changing the vantage point, it was possible to plan re-use of a single set to depict multiple rooftop locations.
The Illuminati Battle finds Wanda Maximoff facing down multiple super-foes.  After doing initial blocking with previs versions of the characters and set, the film team could then use Cyclops on the iPad to map the action within the actual filming environment.  This process helped then determine specific configurations and repurposings that could be done for practical props and walls, and where various CG extensions were most needed.
(The Third Floor's previs, representing different powers brawling in the Illuminati battle sequence in Doctor Strange in the Multiverse of Madness. © 2022 MARVEL)
Unique environments like the Vishanti Temple, a topsy turvy "in between" in the Multiverse, were also visualized to represent production looks, VFX action and specific transition effects that the film team envisioned.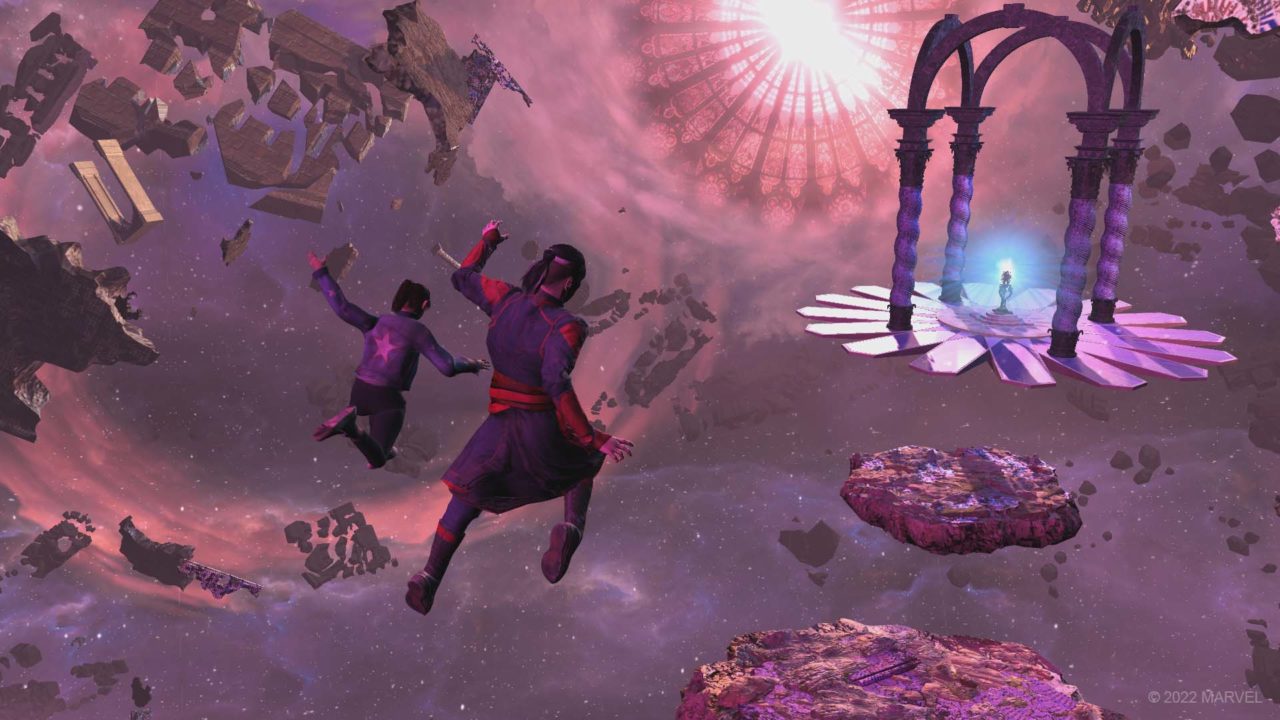 (Filmmaker ideas for action in the Vishanti Temple as visualized in previs for Doctor Strange in the Multiverse of Madness. © 2022 MARVEL)