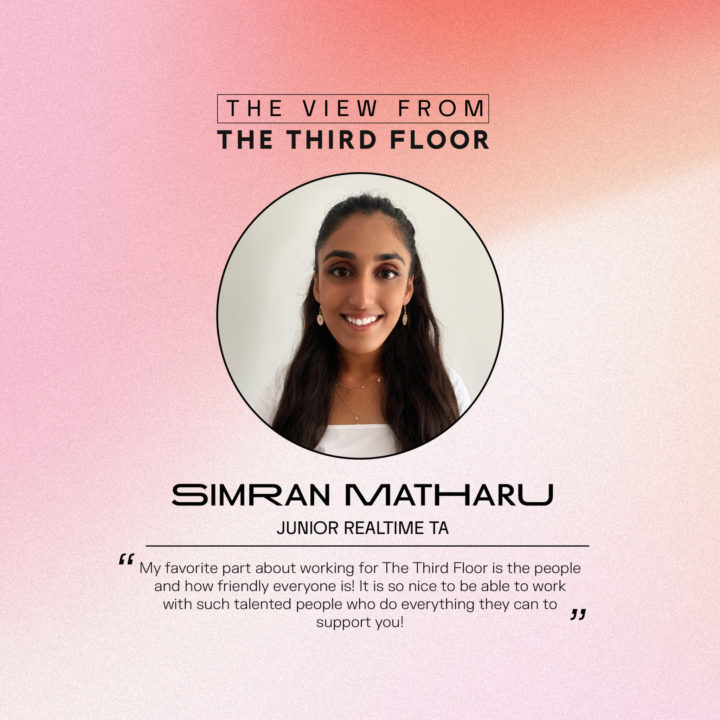 What is your name and what is your position at TTF? 
My name is Simran Matharu and I am a Junior Realtime TA.
How long have you been with TTF?
I have been with TTF for around 6 months.
What does your role look like day to day?
I work within the Virtual Production (VP) department. The VP team offers a suite of VP tools and services that help propel filming into the 'virtual world'. As a Junior Realtime TA, my role looks different day to day, no two days are the same, which I love! Whether it is helping out on a show, or training and increasing my skill set. 
What led you to work in the visualization and entertainment industry?
Growing up, I had an interest in both art and science. Along with this I always found myself feeling excited about new technology and loved keeping up with it. Pairing these with my love for Film and TV, working in this industry is perfect for me. 
What is your favourite part about working for The Third Floor? and your role?
TTF
My favourite part about working for The Third Floor is the people and how friendly everyone is! It is so nice to be able to work with such talented people who do everything they can to support you!
Role
My favourite part of the role is being able to get involved with so many different things! From being able to get out on set, to having the opportunity to be on a Fellowship with Epic Games! It's always exciting here at TTF.
What advice would you give someone looking to get into this industry?
Definitely to enjoy working on your skills, get involved with different projects and meet new people! It's amazing to be able to learn from others as we all have different strengths. 
Biggest milestone at TTF / How have you grown here?
My biggest milestone was definitely getting out on set and being involved with using The Third Floor's AR app Cyclops. Virtual Production is truly amazing, and it is exciting to be able to gain experience using it in a practical filmmaking environment.
ART
What's your favourite creative outlet?
At the moment, I really love cooking! I love being able to experiment with different flavours and make some good food!
Where do you draw your inspiration from?
Definitely from eating out! I love trying out different restaurants and then trying to replicate the dishes. 
What was your biggest influence as a kid? 
My mum! She makes the best food.
Are you doing anything at the moment to grow and develop your skills? 
As well as cooking, I love making desserts! Now that I've mastered cheesecakes, brownies and all the rest, I am now trying to make sweets from my own Indian culture. 
FUN
You're on the run from a hoard of zombies, what do you do?
Grab my family and friends, and run to the nearest Costco! Best place for survival, no questions asked. 
If not London/LA, where?
I'd love to go to Canada! I have been to Vancouver on holiday once, and love the vibes there. 
Fictional character you'd share a pint with?
Definitely Marvel's Black Widow! An amazing independent woman.
Describe what you were like as a 10 year old?
I was a bit of a drama queen! I loved being the center of attention. I'm the total opposite now, more a behind the scenes kind of girl.
If Hollywood made a movie about your life, who would you like to see cast as you?
Probably the beautiful Simone Ashley! 
People would be surprised if they knew…
I am a Twin! My twin sister is older than me by only 1 min. …and no, we can't read each other's minds!!
TV Show/Film you're ashamed to admit you love!
High School Musical! Sorry not sorry…it's my childhood!
Go-to karaoke song?
Anything Whitney Houston! 'Oh I wanna dance with somebody!'