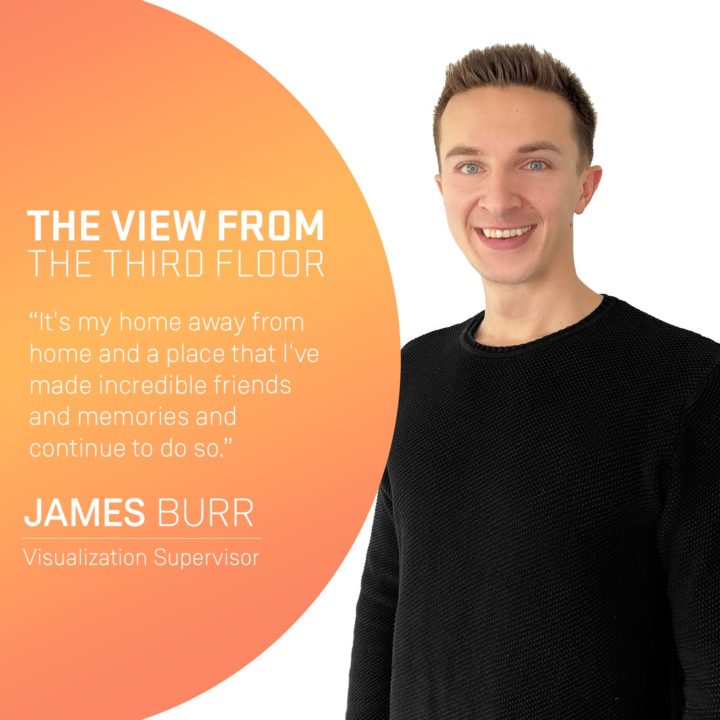 What is your name and what is your position at TTF?
James Burr -Supervisor at The Third Floor London
How long have you been with TTF?
Since 2012 and counting!
What does your role look like day to day?
As a Supervisor  it usually starts with having a meeting with our team  and co-ordinator to outline a  plan of action for the day. From this I will then ensure that all our artists on the show are working on their assigned sequence and check in with them individually to go over shot briefs and notes. It's important as a Supervisor or a lead to give as much support to your artists to ensure a smooth work pipeline. Aside from the managing aspect of the role, I would also have my own sequences/shots to work on, usually these involve large complex shots, master scenes and concepting ideas. At the end of the day I would usually be with editorial going over the dailies and updating our edits ready to send to the clients. Importantly I have to make sure I am always available to the clients for any calls/meetings to discuss our work.
What led you to work in the visualization and entertainment industry?
Quite simply, 'The Lord of the Rings'. From the age of 12 after having watched this incredible trilogy, my love for film grew, especially after watching through all the behind the scenes on the DVD extras. After knowing this is what I wanted to do when I was older, I tailored my entire education to follow this path, so I ensured I picked the right subjects such as Art, IT and Media to then help me get to the university of my choice and on the right course which was BA Computer Animation. As I was finishing my course I started to realise that there wasn't one particular area in VFX that I wanted to specialise in, I was more of a generalist, someone who enjoys doing all aspects of post production and this is how I ended up doing my dream job at an incredible company I call my home, The Third Floor.
What is your favourite part about working for TTF?
 I've worked for The Third Floor for my entire career since leaving University. It's my home away from home and a place that I've made incredible friends and memories and continue to do so. If I was to write all the things I love about the company I'd be here all day, so I will keep it sweet and short and say that my favourite part of working at The Third Floor is the people and the variety of projects we get to be a huge part of. It truly is a special place to work.
What advice would you give someone looking to get into this industry?
My biggest advice for anyone looking at getting into the industry would be three key words 'Don't Give Up!'. Its very easy when leaving University to feel daunted by the prospect of breaking into the industry and going up against other very talented people vying for the same jobs. But if you stay focused, keep a positive attitude, and show a willingness to learn, any company would be more than happy to have you working for them. The world needs more positive people!
Biggest milestone at TTF?
My entire time at The Third Floor has been incredible but there are a few milestones that stand out to me. The first was being part of the Primetime Emmy winners for Game of Thrones Season 4, and receiving my emmy certificate while at work. Other milestones are leading on Spiderman Far from Home and supervising my first show last year.
Where do you draw your inspiration from?
I think like most people I draw a lot of my inspirations from varied forms of art and media, whether that is a film, a video game or even a book. However when it comes to the way I work, most of my inspiration comes from the people I work with whether it be another supervisor, an artist or a coordinator I find myself always finding new ways of improving myself as a person and an artist.
What piece of media was the biggest influence on you as a kid? As an adult?
A piece of media that had the biggest influence on me as a kid was The Lord of the Rings. As a lot of people know they are my favourite films of all time and are the sole reason why I do the job I love today.
You're on the run from a hoard of zombies, what do you do?
 If I was on the run from a hoard of zombies I would probably just go to the winchester, have a pint, and wait for all of this to blow over.
What's your favourite art form?
My favourite art form is video games. I feel like there is so much creativity and use of different art styles which portray fantastic storytelling and character development.
If you hadn't become an artist, what would you have been?
If I hadn't become an artist I would love to have become a marine biologist as I always had a massive passion for marine life and in particular Sharks.
If not London, where?
If I wasn't based in London, personally I would love to be based in New York as it's my favourite place in the world and holds a lot of great memories for me and my wife. Another choice would be New Zealand as it is always somewhere I've dreamt about going to and exploring.
Fictional character you'd share a pint with?
Fictional character that I would love to share a pint with would be Aragorn from the Lord of the Rings. By far my favourite character in the books and the movies.
Describe what you were like at age 10…
 At age 10 I was an extremely ambitious and enthusiastic kid who wanted to do and try everything. Whether it was drawing, football, skateboarding and surfing. I always wanted to be active and creative which I feel has carried forward to who I am today.
If Hollywood made a movie about your life, who would you like to see cast as you?
If Hollywood made a movie about my life, I would like to see either Tom Holland or Zac Efron.
People would be surprised if they knew…
People would be surprised if they knew that when I was a kid, I was a catwalk model for GAP. 
TV Show/Film you're ashamed to admit you love!
I think  it's fair to say people have questioned my taste in movies before, but my guilty pleasure is Mean Girls and you know what, I'm not even ashamed, it's a great movie!
Go-to karaoke song
New York New York by Frank Sinatra or if we go back to when I was a kid, I for some reason used to always sing 'My heart will go on' by Celine Dion, although that was back when I had an okay voice, definitely couldn't pull it off nowadays.
What is the project you've loved working on most while at TTF? 
My favourite film that I have been a part of was Spiderman Far From Home. Growing up I was always a massive spiderman fan, from the comics, the tv series, games and of course the movies. So the opportunity to work on a Spiderman movie was a dream come true. It was also the first ever movie that I was made a lead artist for, which was a massive achievement for myself. What made this movie even more special was our phenomenal team who made the whole journey so much more enjoyable. Also can't forget it was the summer of 2018, one of the best summers London has ever seen, safe to say that definitely added to the experience.