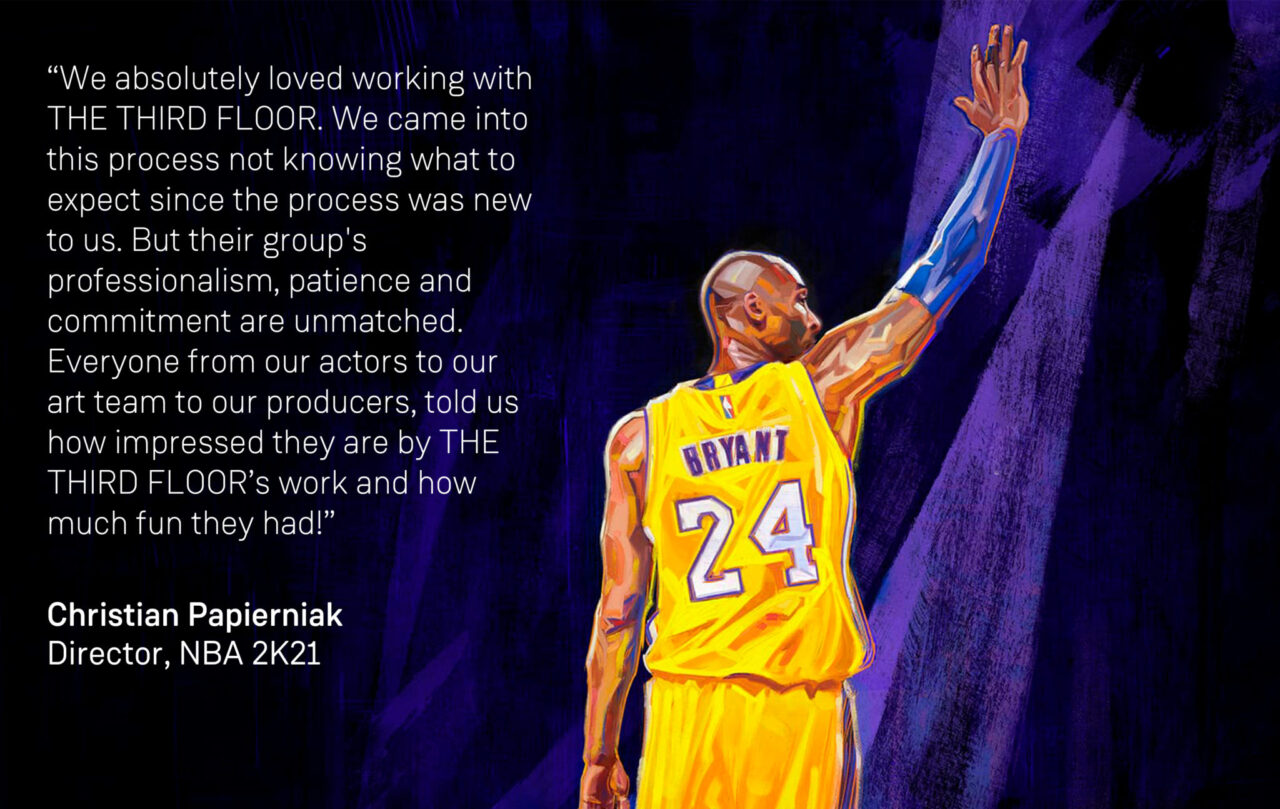 Professional basketball is back and fans have even more to look forward to with NBA 2K21, the new installment in the popular 2K series of sports video games based on the National Basketball Association. THE THIRD FLOOR previs'd several in-game sequences to help Director Christian Papierniak visualize key locations that are simulated in the game, and develop set designs and camera coverage to surround players in notable locales from New York and Las Vegas to The Barclay Center.
"For all of these shots, the director came at us with a prompt: 'I want to show this city, how do we make it look interesting?' And we would pitch out camera and landmark ideas. He loved all of it and was eager to collaborate and explore" remarked Sophia Yu, LA supervisor, THE THIRD FLOOR. "He kept in frequent contact, often emailing us daily for updates and dropping in at our office to review shots in person. He used us mostly to visualize major establishing shots and sweeping camera moves."
To help the client prepare for a large-scale finals shoot, the team ran virtual rehearsals at THE THIRD FLOOR using motion capture together with the previs the team had created.
"We marked the actors, camera, and clapper so that they could be tracked by a mocap system and viewed live on our large surface screen," Yu continued. "The director loved seeing the characters in the environments and being able to adjust his compositions on the fly with that in mind."
"We absolutely loved working with THE THIRD FLOOR," said Papierniak "We came into this process not knowing what to expect since the process was new to us. But their group's professionalism, patience and commitment are unmatched. Everyone from our actors to our art team to our producers, told us how impressed they are by THE THIRD FLOOR's work and how much fun they had!" praised Papierniak.
NBA 2K21 makes a slam dunk of an appearance on Playstation 4, Xbox One, Nintendo Switch, Windows PC, and Google Stadia on September 4th.
—
This year's NBA 2K21 Current Gen Demo includes four playable teams, the return of the MyPLAYER Builder, and the opportunity to try out some of NBA 2K's latest gameplay innovations. Get ready for 9/4 and pre-order now: nba.2k.com/buy
Follow us on all social media!