VLRA Expo 2016 wrapped up with an hour panel on "Storytelling in VR" moderated by our very own CEO Chris Edwards.
Gil Baron (CEO & Co-Founder, Visionary VR), Angela Haddad (VR Producer, SilVRThread) and Bryn Mooser (CEO & Co-Founder, HuffPost RYOT) formed the expert panel. For anyone interested in the complex landscape of VR, the event was illuminating.
Chris kicked off the panel with VRLA's first ever round of speed questioning, posing True/False statements of the panelists:
– VR should be a seamless experience and not involve cutting
– 360 video is a true form of VR
– Narrative VR experiences will some day be feature length or longer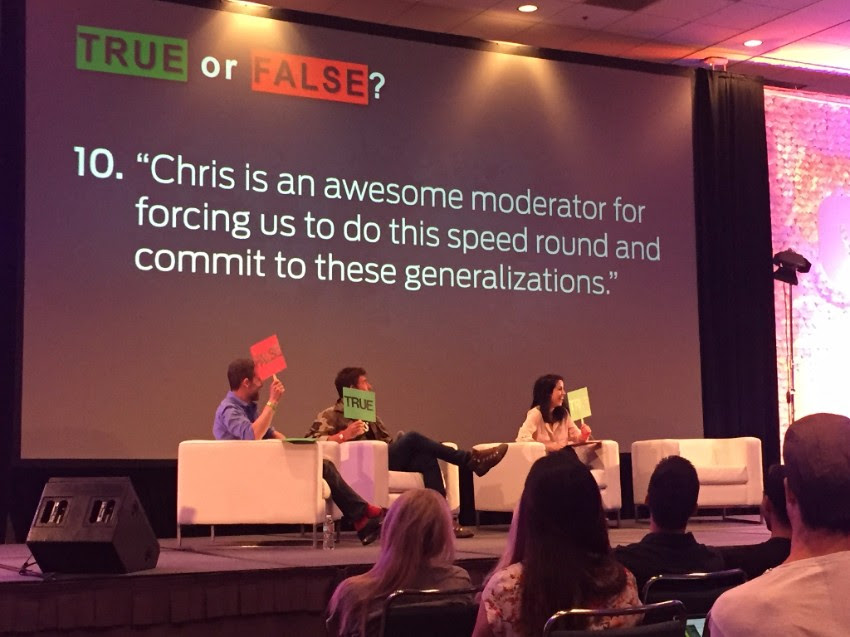 These questions opened up a fascinating dialog about the potential and limitations of VR. Subjects included branching narratives, crafting characters, the role of writers, field of view and POV.
The panelists also shared tips and tricks about the dreaded simulator sickness. Angela noted the importance of thinking about inertia between cuts. Gil encouraged exploring other disciplines for solutions, noting how pilots don't get queasy being in a small cockpit.
Chris posed what technologies the panelists would wish into existence to allow them to tell better stories. Gil targeted wireless VR, eye and face tracking. But fundamentally, "simplistically and bandwidth. VR inherently wants to connect people…the limitations are access and bandwidth." He shared his first pitch for VR: "If you can take ten cellphones and put some cardboard on them and connect them, you can make a school."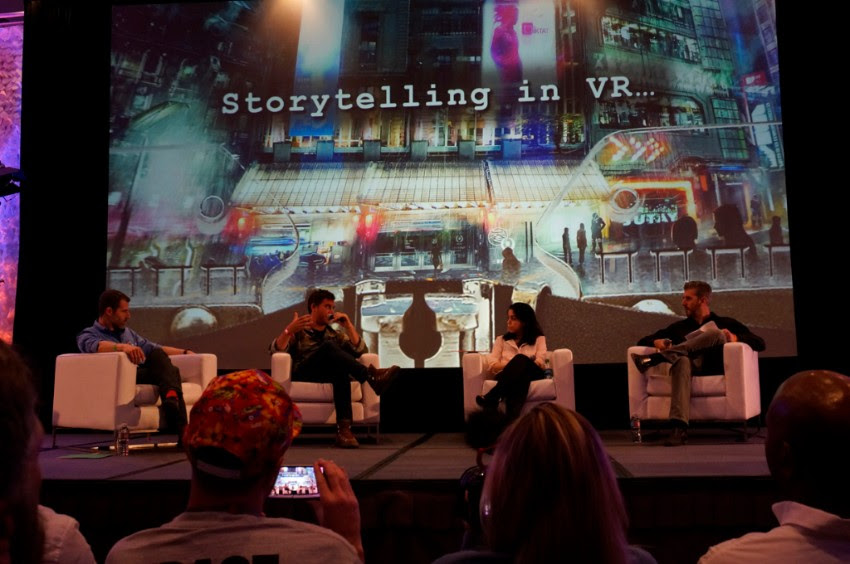 Chris noted the spectrum of storytelling experiences from passive narratives (film and TV) to interactive open worlds (gaming). He also forecasted the intersection of the two disciplines within the same technology of the Game Engine:
"What if you could record a series of [live action] performances – and pause or slow down or go into an idle in very much the same way you program an AI performance in a Game Engine for an MPC character that will wait to respond to you? There's something to be said about the Game Engine itself becoming…an infinite sound stage that allows you to trigger events that will feel like reality."
"There's something to be said about the Game Engine itself becoming…an infinite sound stage that allows you to trigger events that will feel like reality."
"There's something beyond just telling a narrative story within VR. What's the next level we can be thinking about?" Bryn posited. "We're still thinking about how to tell a story in a box where you can look behind you…we have to rethink the way we tell stories as filmmakers in this new medium."
Watch the entire panel below: